100GDP Reverse Osmosis Water System
Product Description
Payment & Shipping Terms
Supply Capacity
Unit Price:
30.0~50.0 USD
Production Capacity:
10,000sets
Trade Term:
FOB
Packing:
Each one per carton
Payment Terms:
L/C, T/T
Delivery Date:
20-25days
Min. Order:
1 Set/Sets
Means of Transport:
Ocean
Reverse Osmosis Water System

5-Stage 100 GPD Reverse Osmosis System with the metal tank

100 GPD (Gallons per Day) reverse osmosis membrane for quick recovery

1/4" flow "tank-to-faucet"
5-Stage Reverse Osmosis Filter Pack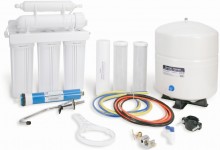 Reverse Osmosis Water System,
FEATURES
Quick-Connect fittings throughout the system - Not the "cheap" JACO-TYPE fittings.
Full 1/4" flow "tank-to-faucet."
System installs neatly under the sink or can easily be remote installed.
Removes or reduces Chlorine, Arsenic, Trivalent Chromium, Perchlorate, Lead, Barium, Radium 226/228, Cadmium, TDS (Total Dissolved Solids), Fluoride, Turbidity, Copper, Hexavalent (Chromium 6), Selenium, Cysts (including Cryptosporidium, Giardia, Toxoplasma, and Entamoeba) and many other chemicals, pesticides and contaminants.
PARTIAL LIST
1-Year Comprehensive System Warranty (excludes filters, membrane is pro-rated)
3.2 Gallon NSF Certified Metal Storage Tank with Poly Liner Quick-Connect (Push-in) Fittings for Inlet, Drain, Tank and Faucet Make Installation a Snap
Includes Tubing, Self-Piercing Saddle Valve, Drain Saddle, Long-Reach Chrome Lead-Free Faucet (pictured), And All Fittings Necessary for Installation
THE US WATER ECONOMY 5-STAGE REVERSE OSMOSIS SYSTEM:
STAGE 1
- 5-Micron Sediment Filter: Reduces dirt, Sand, and Rust
STAGE 2
- 5-Micron Carbon Block Filter: Reduces Chlorine Taste and Odors
STAGE 3
- 5-Micron Carbon Block Filter: Second Carbon Block Filter Reduces Chlorine Taste and Odors
STAGE 4
- 100 GPD High Production TFC RO Membrane: Separates Purified Water From the Rejected Impurities Down to 1/10,000 of a Micron
STAGE 5
- Granular Activated Carbon Final Polishing Filter: Enhances the Taste of the Water
STORAGE TANK
- 3.2 Gallon NSF Metal Tank with Poly Liner

Reverse Osmosis Water System
Production:100 GPD
Membrane Rejection:94 - 98% (typical)
RO Module:16" w x 16" h x 6" d
Tank Construction:Metal construction
Tank Size:11" d x 14" h
Pressure (min/max):30 - 100 psi
Inlet Tubing Size:1/4" OD
Outlet Tubing Size:1/4" OD
Category: Water Purifieds